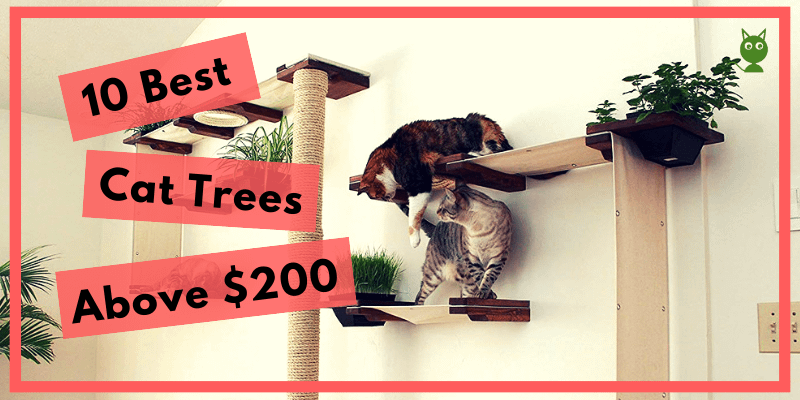 Greetings, friends, it's Jeanie here with another look at the 10 Best Cat Trees Above $200 that are available for your feline friends. This time around I am going to focus on the slightly higher end models that are over $200. I know, that may sound like a lot to spend on your cat but in my house, my two boys need something sturdy and big enough to keep them occupied. Plus, with the added features you get in this price range, they get a lot of physical and mental stimulation. Check out the line up of Cat Trees I'm going to take you through below. And feel free to click on any of the links to go straight to the product on Amazon.
Quick Links: Top 10 Cat Trees Above $100
I love being able to leave the house knowing that Roger and Doogle are going to be occupied for a while. Well, that is as long as Roger doesn't start to try to figure out how to freak out Doogle. Trust me, it happens. Sometimes I'll come home from a quick trip to the corner store and find Doogle huddled in the corner because Roger scared him somehow. I think I need a Cat NannyCam or something so I can see what trouble Roger gets into when I am away. Hmmm, maybe that's an idea for a future blog post, too.
Overview Of My Top 10 Best Cat Trees Above $200
1. FrontPet Futuristic Cat Tree Tower
Talk about modern, hip, fancy and amazing. This Futuristic Cat Tree Tower from FrontPet blows my mind and probably has done the same to many kitties over the years. It stands 60 inches tall and is quite honestly a stylish, exotic piece of furniture. There are a total of four carpeted platforms that your cat will love to use to get to the top. Plus, as this comes unstained, you can finish it in any colour you like to fit your home décor.
Trust me when I say that this is one cat activity tree you won't want to keep hidden in a back room or behind a door or somewhere out of the view of others. This is a piece worth showing off!

Dimensions: 30"W x 23"L x 60"H
Material: Natural Wood Finish, Built In Food & Water Bowls, Carpeted Platforms
Color: Futuristic (Unstained Wood)
Weight: 50.5 lbs
Pretty awesome looking design that keeps the humans as occupied as the cats it was designed for

Perfectly balanced design that won't tip even if your cat is really, really active

Simple to put together so the humans can get this together fast

All hardware is included, which apparently makes Jeanie happy

The carpeted cat platforms are big enough for lounging or scratching

2. Refined Feline Lotus Cat Tower
It's sleek and organic. A lot like one of my cats however, what I am describing is actually the Lotus Cat Tower. It has a Zen-like design that blends functionality with symmetry and minimalism into what could only be described as a beautiful, flowering tower designed for cats. You really have to see this one up close to truly appreciate the spirit with which it was made.
It is pretty awesome and can hold several cats with large platforms, stepped shelves and a perch that is almost six feet off the ground. There's also a cushioned hide-away cubby at the bottom. This unit measures 69 inches tall by 20 inches wide by 20 inches deep. It is made of ply with oak veneer for strength and looks. Plus, you can replace the parts your cat(s) wears out.

Dimensions: 20"W x 20"D x 69"H
Material: Ply and Oak Veneer, Carpeted Platforms with Velcro, Soft Cushions with Faux Suede Covering, Sisal Padding
Color: Expresso, Mahogany, Smoke
Weight: 68.8 lbs
There are several soft cushions for comfortable naps and the covers are washable

A long sisal scratcher gives your feline friend a full body stretch

Platforms have carpet on them that can be removed and replaced

The tallest platform is great for playing hide 'n' seek or for just napping

Unique design means neighboring cats can join in the fun

3. CatastrophiCreations Cat Mod Garden Complex Wall Climbing Tree
So, when I heard the words 'garden complex' in the name of this product I got pretty excited. There are not many opportunities I've seen where you can combine a cat tree with actual vegetation. In fact, that's the one thing I always found interesting about these items. It's called a tree but that's only because it may contain some wood. Well, this Cat Mod Garden Complex from CatastrophiCreations will change your mind about gardens, trees and indoor cat activity play centres. That's because this is all of those things and a little bit more.
The sprawling design includes planters (you have to supply the plants) so essentially you can give your cats a kind of outdoorsy experience in the comfort of your home. The unit is made from solid pine, metal, PVC, sisal rope and canvas. There's a four foot high sisal pole, an 18-inch sisal-lined escape hatch, a pair of ladders and a total of eight mounting planks. It will cover a good portion of a wall but it will also keep your cat(s) completely engrossed.

Dimensions: 11"W x 109"L x 63"H
Material: Solid Pine, PVC, Canvas Fabric, Sisal Lined Poles
Color: English Chestnut, Onyx Wood, Unfinished Wood
Weight: 58 lbs
Two ladders built into the design allow for easy access from one level to another

Mounted directly to the wall, none of this is going to tip or fall

The very tall sisal pole is great for climbing, scratching or just rubbing against

There are a lot of parts to this activity tree that will keep both cats and humans busy for a long time

Catnip in the garden? I vote yes!

4. CatastrophiCreations Cat Mod Climb Track
This is another awesome Climbing Center from CatastropiCreations. It is massive. It is also incredibly well designed and comes in your choice of unfinished, Onyx or English Chestnut wood. Plus, you can also choose the canvas colour you prefer. Mounting hardware is in nickel. The features beyond that make me wish I was a cat. I know I'd have far too much fun playing, jumping, lounging and napping all over this structure.
It comes complete with a four foot sisal-lined pole, an 18-inch sisal-lined escape hatch, five mounting planks with four canvas hammocks. It measures 69 inches high by 56 inches wide by 11 inches deep so it doesn't stick out far from the wall but it will cover a wall.

Dimensions: 56"W x 11"D x 69"H
Material: Solid Pine, PVC, Canvas Fabric, Sisal Lined Poles
Color: English Chestnut, Onyx Wood, Unfinished Wood
Weight: 31.5 lbs
There are many great features here including shelving and hammocks

The sisal-lined parts are great for clawing and scratching

The highest piece gives a great view of the entire room
The sisal hatch is pretty cool

The pole is great for escaping from one level to the floor and also makes for great climbing

5. Sebastian 67" Modern Cat Tree
What do you get when you stick two cats into a 67 inch cat tree? You should hear some purring and have some time to yourself as a result. That is exactly what happened when I put Roger and Doogle in this unit for a 'test drive.' I can't say they went nuts, but they sure liked what they saw.
The Sebastian Modern Cat Tree has six different levels with the first level featuring sisal scratching material. The second and fourth levels have carpeting for lounging. There's a cubby hole on the second level for hiding and a cat entrance hole that measures 7.5 inches by 8 inches high. So even the bigger cats can get inside. This tree comes in your choice of black or white and looks great just about anywhere you choose to put it.

Dimensions: 22"W x 22"L x 67"H
Material: Carpet, Sisal Scratching Material
Color: Black & White
Weight: 66.1 lbs
It's dog free as the entrance hole will let fatso Doogle in but not the dog down the street

The different levels have different material on them for napping or scratching depending on the material

There are a lot of things a cat can do on this apparatus
It's dog free as the entrance hole will let dumbo Roger in but not the dog across the street

The carpet levels make for great napping spots

6. New Cat Condos Premier Solid Wood 6-Foot Skyscraper Cat Tree
There is nothing that compares to a solid wood construction when you are talking about the best stand alone cat trees. This Premier Solid Wood Skycraper Cat Tree comes fully assembled and ready to take on your cat(s). As this stands 6 feet tall, I needed a hand getting it into my house. Luckily the nice young man from two doors down was walking past the truck as I was trying to get it out of the truck box. He took it and carried it without a problem. So, if you have a strong, young man in your household or you have access to one, let them get this into your house. I think I could have hurt myself doing this one alone.
Aside from that, this product contains household grade carpet, unoiled sisal rope and sonic tubes. The base and platform have beige, brown or grey carpeting. It's really a great tree, and will keep cats comfy for hours.

Dimensions: 20"W x 20"L x 72"H
Material: Solid Wood (Fully Assembled), House Grade Carpet, Sonic Tubes
Color: Beige, Brown & Grey
Weight: 55 lbs
The nesting perch at the top is great for napping and for watching what is going on around you

The carpet surfaces are super comfy

It is solid and sturdy and puts up with cats jumping all over it
The long tunnel like perches are neat little hiding places

My human needed help getting it into the house

7. Baobab Modern Cat Tree
This Baobab Modern Cat Tree is Eco-Friendly which I think means that it is not a real tree. I'm not really all that clear on that point. However, it is made from laminate with 100-percent recycled wood fibre. Oh, wait a second. That's probably the eco-friendly part right there. I'm sure the kids at school could have told me that. Oh, well.
The base has non-skid rubber feet which keep this tree in place and all you need is a Phillips screwdriver to put it together. The inserts are attached with Velcro so you can just peel them off and either vacuum, clean or replace them. The design has four branches that are meant for climbing and all kinds of feline adventures.

Dimensions: 23"W x 23"L x 60"H
Material: Eco-Friendly White Laminate, Non-Skid Rubber Feet, Velcro Inserts
Color: White
Weight: 56 lbs
This thing must be stuck to the floor as it won't move and I've tried and tried to make it move

There are a number of levels to climb and play on

The treetop has a place where cats can sit and observe or curl up and nap

The inserts are pretty much the most fun when you get to scratch them

8. CatastrophiCreations Cat Mod Wall-Mounted Cat Bridge with Fabric Lounger
The CatastrophiCreations Cat Mod Wall-Mounted Cat Bridge with Fabric Lounger is serioulsy a great add-on if you already have a wall mounted climbing tree system. Referred to as the cats very own habitat, this is a beautiful and functional add-on jungle gym for your cat(s). Featuring a cute suspension bridge and lounging hammock, what more could your cat want? Trust me, it's a really nice combination of things to keep your kitty busy, interested, curious, safe and a place to play, climb, scratch and nap. It's the purr-fect place for any cat.
This is a compact piece of cat exercise equipment measuring 12 inches high by 12 inches wide and 10 inches deep. There's actually two hammocks which is great if you have more than one cat (like me!). The solid parts are made of wood and the hammocks are made from heavy duty canvas. It mounts directly to the wall and comes with all the do-dads you need to do that.
Dimensions: 12"W x 10"D x 12"H
Material: Removable & Washable Fabric, 30" Roped Bridge, Solid Wood Mounting Planks
Color: English Chestnut, Onyx, Unfinished Wood
Weight: 19 lbs
Dogs can't figure this wall-mounted thing out which is good for me (and I guess Doogle)

My human can add this onto our other wall mounted climbing tree

The bridge is very interesting, balance is needed

I agree with Roger on the dog comment

The canvas fabric exterior is soft and comfy

9. Daeou Cat Tree For Large Cats

Okay, I have to admit it. I'm a sucker for anything with a two tone design and stripes pattern. When I first saw this Large Cat Nest (and that's what they call it) I pretty much fell in love. It may be the only time for me, actually. Anyway, this is a  very cute looking sturdy structure. It stands 74.8 inches tall and contains two cat houses, two hammocks, a ladder, clawing rope and three high perches.
The very top one is Rogers favorite hangout, while Doogle prefers the lower hammock. The exterior of this product is covered in faux plush fur and just makes me smile! The base is made of pressed wood making it solid and stable.

Dimensions: 31.5"W x 31.5"L x 74.8"H
Material: High Quality Pressed Wood, Faux Plush Fur, Sisal Rope
Color: Grey
Weight: 46 lbs
There are two houses and two hammocks, which means I don't have to push Doogle out so I can have a turn napping

My human seems interested in the plush pattern and won't stop touching it

I prefer the top hammock, great for slouching

I'm surprised that top perch holds Roger

10. CatastrophiCreations Cat Mod Deluxe Fort Handcrafted Wall Mounted Cat Tree
So here we are at the last Best Cat Tree Above $200 and it's no surprise that it's another one from CatastropiCreations (I do really like the brand). This one is called the Cat Mod Deluxe Fort Handcrafted Wall Mounted Cat Tree and for good reason. It's a very neat bit of wall furniture for your feline baby(ies).
This one has a 28-Inch tall sisal covered pole for climbing, scratching, rubbing and just staring at as Roger will do at times when he's thinking about his next move. There are six mounting planks, two ladders and four (omg!) hammocks! Each hammock has been weight tested to hold 62 lbs and each plank 85 lbs. So a perfect cat wall tree for larger cats.

Dimensions: 38"W x 11"L x 60"H
Material: Canvas Fabric, Sisal Lined Hatch, Solid Wood
Color: English Chestnut, Onyx, Unfinished Wood
Weight: 34.6 lbs
For the climbers in your family, this is a great workout

A lot of great climbing spots on this unit

A lot of great napping spots on this unit

And for Roger, a couple of good staring spots on this unit…ha-ha-ha

10 Best Cat Trees Above $200 Conclusion
If you love your cat(s) as much as I do, you'll know that sometimes you just have to splurge and get them something special. For some cat owners that's a special treat for dinner or a new collar or toy. For others it is a cat tree that truly lives up to the name. If your cat is active or just needs to be occupied for a period of time, these are the best cat trees for the job. And if you're looking for more reasons to justify buying one, check out my post here: Why A Cat Activity Centre Is A Good Investment.

Many of the cat activity trees I've reviewed in this section require mounting to the wall. While this doesn't mean you need an engineering degree to complete the task, you do need to know something about wall studs. The directions should guide you through the process but if you are renting or in an apartment, be sure to check first to see if you can mount the wall-mountable designs to your wall. If there are guidelines forbidding this, that's okay. There are some nice stand alone designs featured here as well.
As much as I'd love to refer you to my all-time favourite cat tree, what I like is going to be different to what Roger and Doogle like. So, when you are shopping for one of these babies, be sure to have you cat(s) test drive them first and that should give you an indication of what style your feline friends prefer. The only way to get the purr-fect match is to include them in the process. I hope my boys and I have helped you decide which of these Best Cat Trees Above $200 is for your family.